The Trilogy of Terror

Details
Average Review

Scare Factor

Scary

Appropriate For

-

Organization Type

Commercial / For Profit

Listing Categories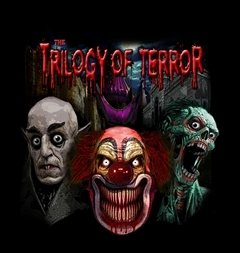 2 award winning haunts and one RATED R HAUNT. We have everything you want and everything you need. The only 3 serious haunted houses in Vegas are all at one location!
We have the most intense haunts in town!!!! All three at the same location!!! Don't miss the "Trilogy of Terror": one stop shopping for fear and home of Vegas's 1st AND ONLY RATED R HAUNT!
3 attractions, ONE LOCATION!!!!!
* GATES OF HELL
*"CASTLE VAMPYRE"
*"THE CIRCUS OF HORRORS"
This IS as GOOD as it gets!

Lets start at the beginning. A few years back (Mortuary's last year open) we decided to check out as many haunted houses as possible in Las Vegas. We started with 13th floor at Circus Circus....good for small children. Then we went to the Fright Dome... Okay, but I though WOW I am getting old. Got a few screams and startles out of me, the general area had people that startled me more than the attractions themselves. The we went to the Trilogy of Terror. OMG best night ever. Went on a Thursday and felt as if we were the haunts targeted victim. We ended up meeting the Father Son team that created Trilogy of Terror, because they had concerns for my boyfriend who walks with a cane going through the haunts. Nicest guys ever. We went to about 6 more haunts in Las Vegas and on Halloween weekend ended up back at Trilogy of Terror. The next year mortuary was taken down and Gates of Hell was open. Not to give anything away, but there was a part where the floor your standing on drops about an inch. I screamed so loud and (my new thing I do Laugh when I am nervous) started laughing uncontrollably that the terrorist/Cast Member asked if I was alright. We have already gone once with friends this year. When we got there this year, you are greeted by people who take your picture in front of a green screen, my first thought was just another way to make money. Well I have to say I was impressed with there pictures and the pricing. In fact we ended up purchasing 4 pictures, so everyone in our party could have one. if you can only go to ONE place this year for your haunting experience this should be the place. Great for little and big kids. We took a 12 year old with us this year and while the other adults went into the Gates of Hell, he didn't feel left out because we went and got him a picture. So frickin cool.....We don't even try the other haunts anymore. This IS as good as it gets.

Posted 10/10/13

3 Haunted Houses in one spot!

It's actually $12 per house or $27 for all 3. They also have an all day pass as well as a fast pass but we just went for going through all 3 one time. Started with Gates of Hell, rated R and must be 14 or older to go in. This was intense!!! Warning they will grab and touch you on this one and give you fair warning. Disturbing and graphic images and thoughts so definitely not recommended for kids. The other 2 houses were normal haunted houses but very scary, they don't touch but they sure do jump out at you. Vampires, scary clowns, these haunted houses had it all. Went around 10pm and very long line for the scariest house but they mentioned if you go around 6:30-7:30pm when it opens there's no lines.

Posted 10/22/11